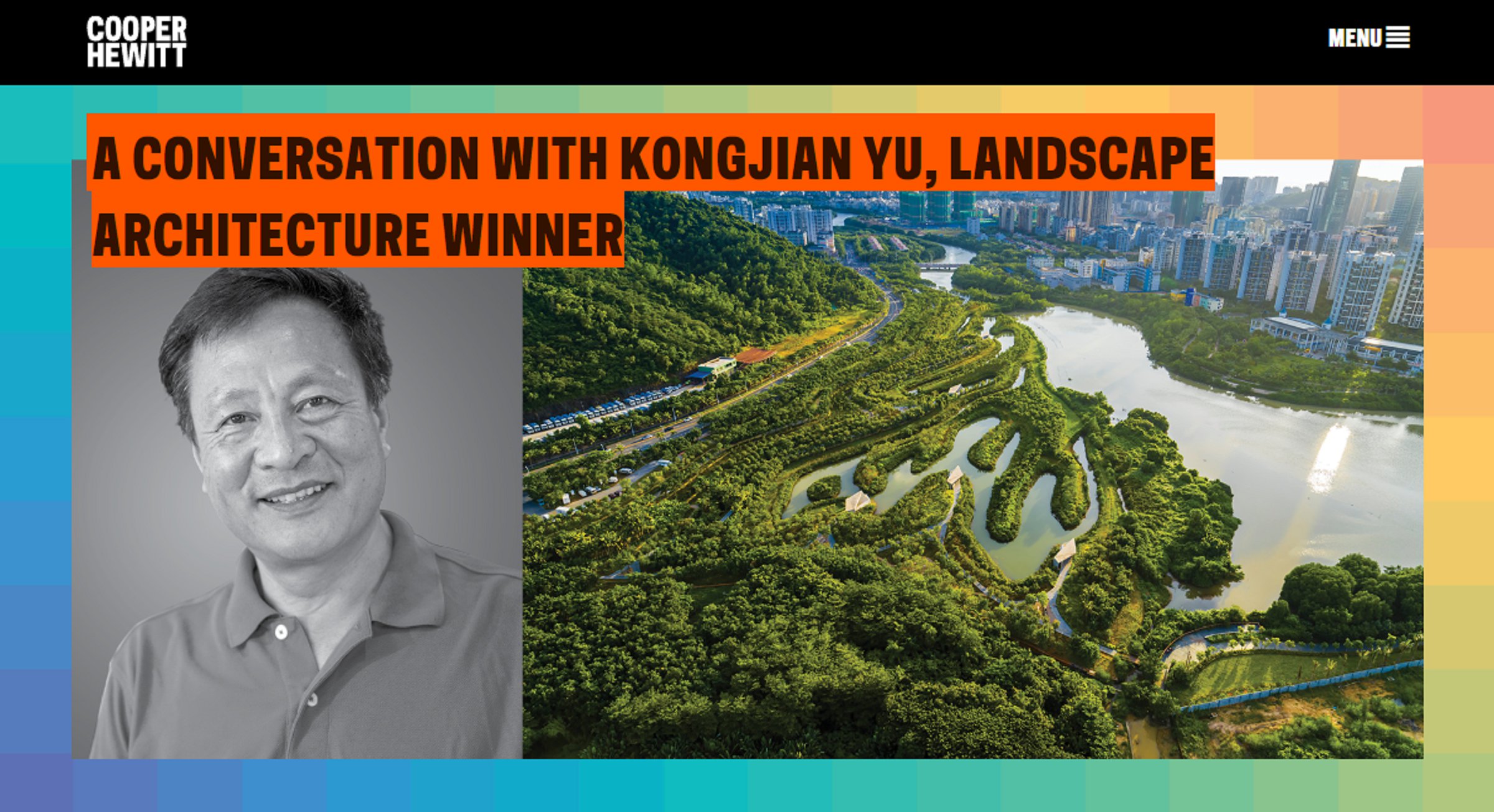 Winner of the 2023 National Design Award for Landscape Architecture, Kongjian Yu is a globally recognized landscape designer, founder of Turenscape, and a founder of Peking University College of Architecture and Landscape Architecture. Several of Yu's core ideas for nature-based climate adaptations, including the sponge city concept, have been implemented nationwide in China. In this illustrated talk, Yu will discuss his work and how his landscape architecture methods and ideas can help mitigate climate events such as flash floods, superstorms, and tidal surges. After a presentation of his work, Yu will be in conversation with Matilda McQuaid, Acting Director of Curatorial.
ABOUT THE PROGRAM
Program Length: 90 minutes
Interactivity Level: Low. Participants will hear a slideshow presentation from Kongjian Yu. Slides will be presented on a large screen. Participants are invited to participate in an optional question and answer session at the end of the conversation.
Intended Audience: People interested in climate, landscape architecture, curious about design. No previous design or design history knowledge is required.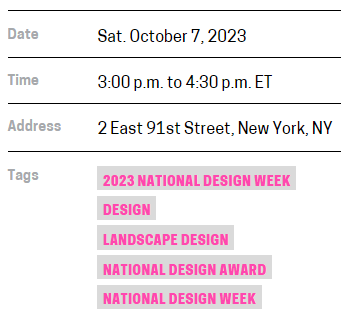 SPEAKERS
KONGJIAN YU
Kongjian Yu is a globally recognized leader in ecological landscape planning and design. A farmer's son, he was trained at the Harvard Graduate School of Design. He is the founder of the Peking University College of Architecture and Landscape Architecture. Yu is also founder and principal designer of Turenscape. His multi-disciplinary firm specializes in the development of landscapes that combat flooding while repairing ecological damage. Several of Yu's core ideas for nature-based climate adaptations, including the sponge city concept, have been implemented nationwide in China. Yu is a fellow of the American Society of Landscape Architects and member of the American Academy of Arts and Sciences. He lectures widely, and has received numerous awards, including the Sir Geoffrey Jellicoe Award in 2020 from the International Federation of Landscape Architects.
MATILDA MCQUAID, MODERATOR
Matilda McQuaid is Acting Director of Curatorial and previously Head of Textiles at Cooper Hewitt, Smithsonian Design Museum. She oversees curatorial and exhibition programming often working collaboratively with other Smithsonian museums on projects and exhibitions. As a curator she has organized nationally and internationally acclaimed architecture and design exhibitions with accompanying publications, including Extreme Textiles: Designing for High Performance (2005), Color Moves: Art and Fashion by Sonia Delaunay (2011), Tools: Extending Our Reach (2014), and Nature—Cooper Hewitt Design Triennial (2019). Formerly at the Museum of Modern Art (NYC) for 15 years where she curated over 30 exhibitions, she is also an accomplished author and editor on art, architecture, and design, with many books, exhibition catalogues, and articles to her credit.
ACCESSIBILITY
Location: This program will take place in person in the Lecture Room at Cooper Hewitt (2 East 91st Street, New York, NY). The Lecture Room is on the ground floor of the museum and fully wheelchair accessible. There is an accessible restroom on the same floor. Theater-style seating will be available.
What to Expect: This program will feature slideshow presentation by Yu, then moderated conversation, followed by an audience Q&A.
Accommodations: For general questions, or if we can provide additional accessibility services or accommodations to support your participation in this program, please email us at CHEducation@si.edu or let us know when registering. Please make your accommodation request as far in advance as possible—preferably at least one week before the program date when possible.
ABOUT NATIONAL DESIGN WEEK
National Design Week celebrates the power of design in our everyday world. Launched in 2006, National Design Week is held in conjunction with the National Design Awards. From October 2–8, Cooper Hewitt's galleries will be free to enter, and programs will welcome all to engage with design. Join us for the presentation of the 2023 National Design Awards, and visit our calendar for a complete listing of programs during National Design Week.
Source: https://www.cooperhewitt.org/event/a-conversation-with-kongjian-yu-landscape-architecture-winner-10-07-2023/#:~:text=Landscape%20Architecture%20Winner-,a%20conversation%20with%20kongjian%20yu%2C%20landscape%20architecture%20winner,of%20Architecture%20and%20Landscape%20Architecture.