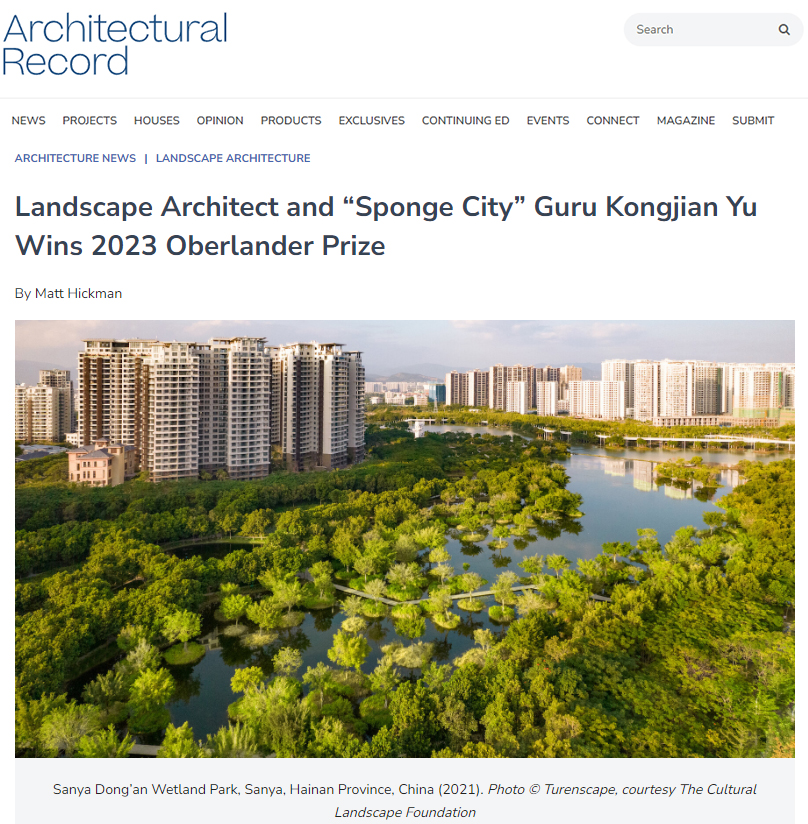 Kongjian Yu, a Beijing-based landscape architect, author, and academic famed for pioneering a particularly porous approach to urban design that employs large-scale green infrastructure with recreational elements to mitigate flooding accelerated by climate change, is the winner of the second Cornelia Hahn Oberlander International Landscape Architecture Prize. He follows in the footsteps of inaugural Oberlander Prize winner Julie Bargmann of D.I.R.T. Studio, who was honored with the biennial accolade in 2021. Conceived and organized by Washington, D.C.–based nonprofit The Cultural Landscape Foundation (TCLF), the prize is named after the late German-born Canadian landscape architect Cornelia Hahn Oberlander, herself a vanguard in addressing environmental and social concerns in her own celebrated body of work. (Oberlander died at the age of 99 from COVID-19 just months ahead of the presentation of her namesake prize to Bargmann, who is also a past RECORD Women in Architecture Award winner.)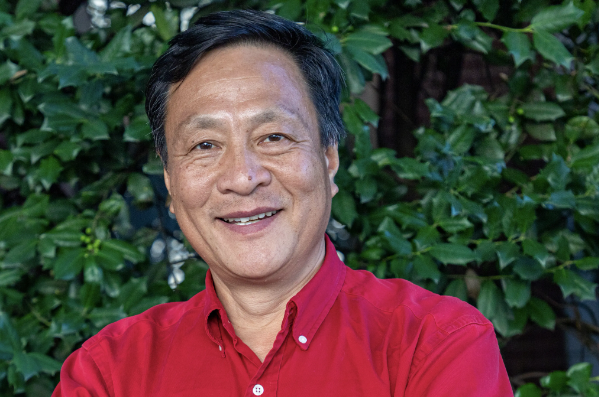 2023 Oberlander Prize laureate Kongjian Yu. Photo by Barrett Doherty, courtesy The Cultural Landscape Foundation
The direct impact that Harvard Graduate School of Design–educated Yu—affectionally dubbed "the Olmsted of China"—has had on landscape architecture, urban planning, and climate resiliency in his native country is formidable. His conceptual framework for "sponge cities" was adopted as a national policy in 2013, and to date more than 70 Chinese cities have realized ultra-absorbent parks as part of the government's urban flood­-curbing-slash-beautification agenda. These landscapes, many incorporating constructed wetlands or reclaimed stretches of formerly industrial waterfront, were created with the shared goal that by the year 2023, 80 percent of cities in China will be able to soak up 70 percent of their rainfall.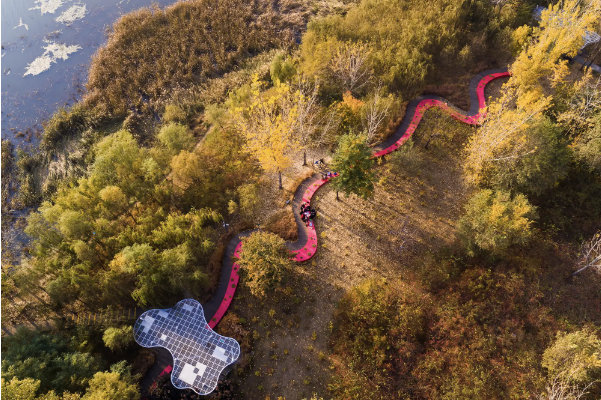 Red Ribbon Park, Qinhuangdao Hebei-Province, China (2013). Photo © Turenscape, courtesy The Cultural Landscape Foundation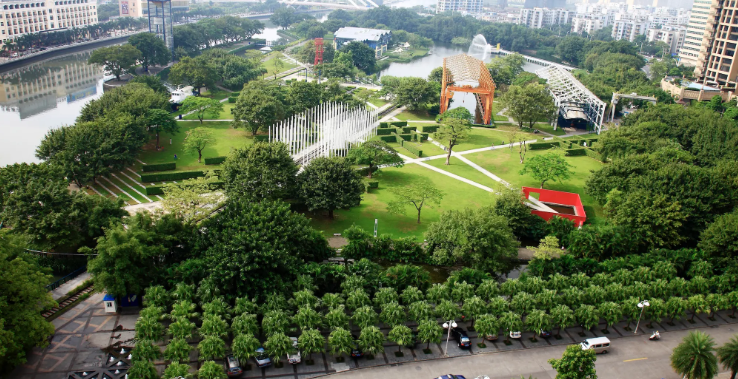 Zhongshan Shipyard Park, Guandong Province, China (2011). Photo © Turenscape, courtesy The Cultural Landscape Foundation
Yu "lives and breathes his conviction that landscape architecture is the discipline to lead effective responses to the climate crisis," said TCLF President and CEO Charles A. Birnbaum in a statement.
Turenscape, a landscape and urban design architecture firm founded by Yu in 1998 following a period working in the U.S. with SWA Group, ranks as one of the largest practices of its kind in China and has completed 600 projects in 200 cities around the globe. While the lion's share of these projects is in China, Turenscape has designed landscapes in other Asian countries and in France, Russia, and the United States, where the firm has realized two modestly sized but striking public green spaces: Chinatown Park in Boston (2007) and Seattle's Hing Hay Park (2018). Three major works by Turenscape subject to in-depth profiles, complete with video commentary from Yu, are featured on TCLF's Oberlander Prize microsite: Zhongshan Shipyard Park in the Guandong Province (2001); Red Ribbon Park in Qinhuangdao, Hebei Province (2007); and Bangkok's Benjakitti Forest Park (2023).

Hing Hay Park Seattle (2018) (1); Chinatowntown Park Boston (2007). Photos © Miranda Estes (1) and Turenscape (2), courtesy The Cultural Landscape Foundation.
Yu, who was born and raised in a remote village in the Zhejian Province, also established the department of landscape architecture at Peking University and has authored more than 20 books. Honors and accolades bestowed to both Yu and his firm leading up to the Oberlander Prize are numerous and include multiple awards from the American Society of Landscape Architects.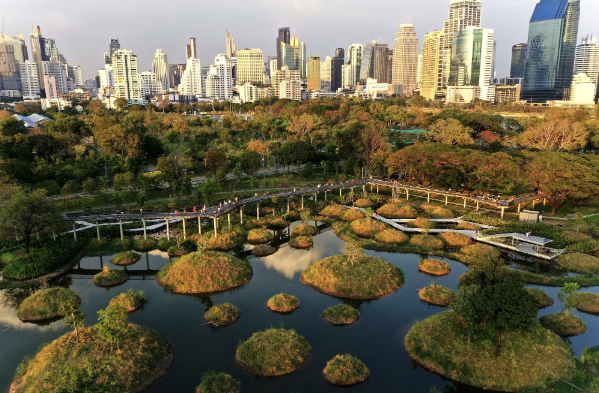 Banjakitti Forest Park, Bangkok (2022). Photo © Turenscape, courtesy The Cultural Landscape Foundation
Yu was selected as 2023 laureate of the Oberlander Prize, which includes two years of public engagement activities along with a $100,000 cash award, by a seven-person jury from a pool of 300 nominations. In its citation, the jury called Yu a "brilliant and prolific designer … [who] is also a force for progressive change in landscape architecture around the world."
Source: https://www.architecturalrecord.com/articles/16541-landscape-architect-and-sponge-city-guru-kongjian-yu-wins-2023-oberlander-prize