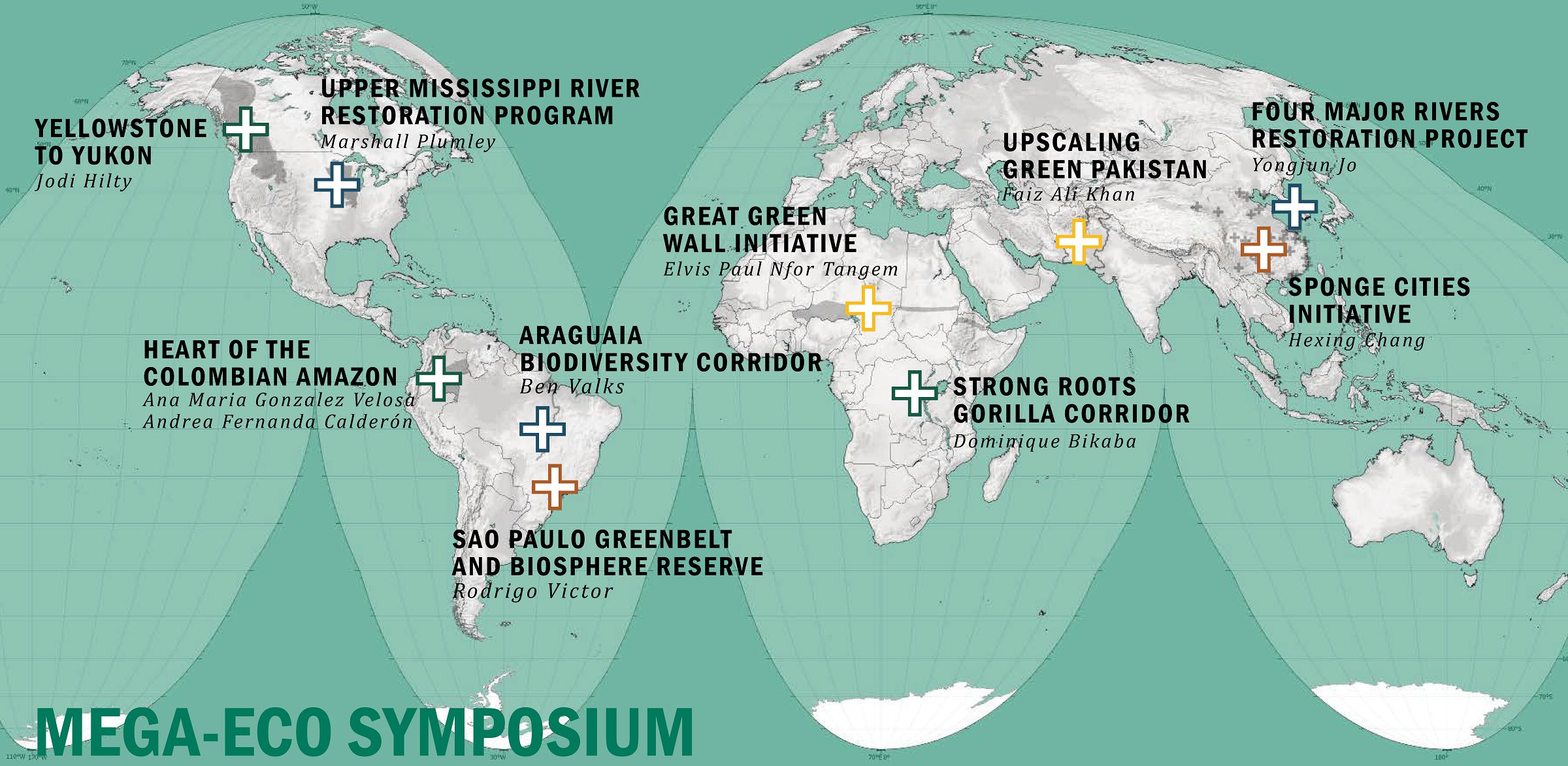 September 4, 2023
For nearly a century, a new breed of landscape infrastructure megaproject has gone unrecognized, and is now proliferating, according to the organizers of a public symposium at the University of Pennsylvania Stuart Weitzman School of Design set for October 5, 2023. These projects are designed to address biodiversity loss, land degradation, and climate change while improving living conditions for the Earth's eight billion human inhabitants. Representing trillions of dollars in potential investments, can they deliver the ecological transformation they promise?
MEGA-ECO: A Symposium on Very Large-Scale Landscape Projects brings together designers and land managers for ecological restoration megaprojects in China, Pakistan, Brazil, Africa, Korea, Saudi Arabia, Canada, and the US to explore cross-border approaches to connectivity, anti-desertification, watersheds, and metropolitan development. They include representatives of the World Wildlife Fund, the International Union for the Conservation of Nature, and the Center for Large Landscape Conservation, among others, who will discuss the Four Major Rivers Restoration Project (China); Forest Conservation in the Heart of the Colombian Amazon; Great Green Wall Initiative (Africa); São Paulo Greenbelt and Biosphere Reserve (Brazil); Sponge Cities Initiative (China); Upper Mississippi River Restoration Program (US); Upscaling Green Pakistan; and Yellowstone to Yukon (North America).
The program opens with a keynote talk by author Tony Hiss, co-creator of the half-earth movement (50x50) and visiting scholar at the Wagner School of Public Service, New York University.
The symposium is organized into four sessions, with presentations from each project representative followed by a discussion with expert panelists:
Keith Bowers, Landscape Architect and Founder, Biohabitats
Dr. Gary Tabor, Founder and Director, Center for Large Landscape Conservation
Dr. Emmanuelle Cohen-Shachem, Nature-based Solutions, Thematic Lead, International Union for Conservation of Nature
David Kuhn, Lead, Corporate Resilience, World Wildlife Fund
Tyra Northwest, Traditional Land Use Lead, Samson Cree Nation, and co-founder, International Buffalo Relations Institute
Panel 1: Connectivity
Dr. Jodi Hilty, Chief Scientist and President, Yellowstone to Yukon (Y2Y)
Dominique Bikaba, Founding Member and Executive Director, Strong Roots Gorilla Corridor
Ana Maria Gonzalez Velosa, Amazon Sustainable Landscapes Program Coordinator: Team leader, World Bank
Andrea Fernanda Calderón, Technical Liaison of the Natural Heritage Project, North East Amazon Environmental and Sustainable Development Corporation (CDA), Proyecto Corazón de la Amazonia
Panel 2: Anti-Desertification
Dr. Elvis Paul Nfor Tangem, Coordinator of the Great Green Wall Initiative
Faiz Ali Khan, National Director, Upscaling Green Pakistan (formerly the Ten Billion Tree Tsunami Programme)
Panel 3: Watersheds
Ben Valks, Creator/Visionary of the Araguaia Biodiversity Corridor
Marshall Plumley, Regional Program Manager, Upper Mississippi River Restoration Program
Yongjun Jo, Landscape Architect
Panel 4: Metropolitan Projects
Hexing Chang, Associate Principal, Turenscape
Rodrigo Victor, Professor, University of São Paulo
Concluding remarks will be delivered by Matthijs Bouw, Associate Professor of Practice at the Weitzman School of Design.
MEGA-ECO is presented by The Ian L. McHarg Center for Urbanism and Ecology and Penn Global, and is organized by Rob Levinthal, PhD candidate in the Department of City & Regional Planning, and Richard Weller, professor of landscape architecture.
MEGA-ECO builds on the 2019 publication Design With Nature Now, a re-assessment of the legacy of Ian McHarg's landmark 1969 book Design With Nature which was co-edited by Weller along with Penn faculty members Frederick Steiner, dean and Paley Professor; Karen M'Closkey, associate professor of landscape architecture; and Billy Fleming, Wilks Family Director at The McHarg Center.
The public symposium on October 5 is followed by an invite-only roundtable on October 6. Admission to the symposium is free and open to the public with advance registration.
Link to register: https://www.design.upenn.edu/events/mega-eco-symposium-very-large-scale-landscape-projects