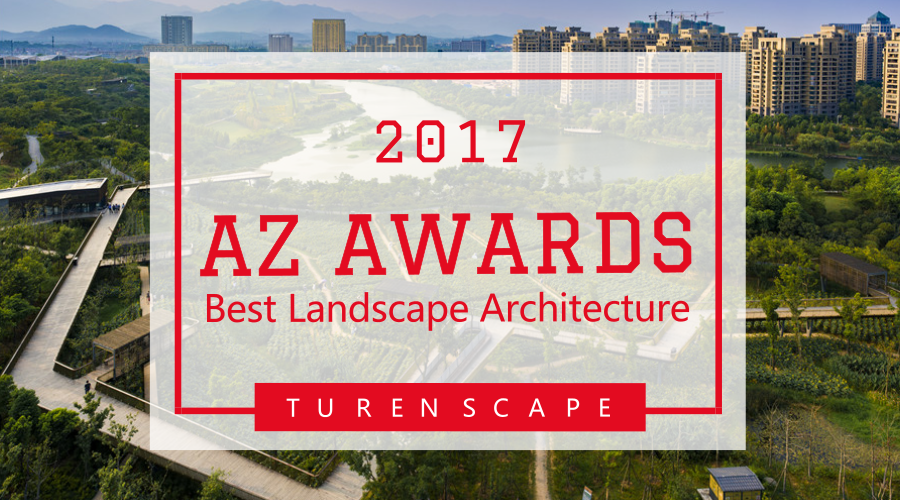 AZURE杂志日前宣布了第7届一年一度的AZ奖(AZ Awards)优胜者,获得这一荣誉的20个项目设计令人惊叹,极富创造力。这些项目是当今全球建筑和设计杰出作品的代表——有新罕布什尔州的新奇天文台,有可以在任何活动场地展开的自行车动力顶棚,还有来自的中国31.3公顷的公园,保护着脆弱的湿地生境。
  Winners and finalists flew in from as far away as Poland and China to attend the celebration at Toronto's iconic Evergreen Brick Works, where the results of Azure's seventh annual AZ Awards competition were announced tonight in the presence of top talents from the local and international architecture and design communities.
  The 20 winners of the 2017 AZ Awards proved their prowess through stunning and innovative projects that represent a snapshot of the leading work in global architecture and design today – from a curious, castle-like observatory in New Hampshire that maximizes stargazing to a bicycle-powered canopy that can unfurl anywhere an event space is needed to a 31.3-hectare park that preserves delicate wetlands in China.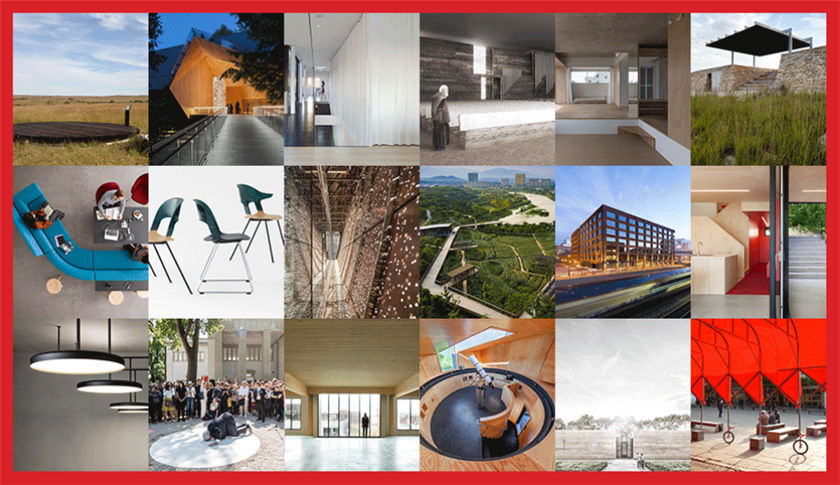 2017年是第7次举办AZ奖,专家评委从来自41个国家的813份作品中挑选出了70份作品进入决赛。由俞孔坚带领的北京大学和"土人设计"团队设计的"衢州鹿鸣公园"荣获此次的最佳景观奖。Victoria Taylor Landscape Architect的作品Public Laneway Puncture,以及West 8设计的Governors Island Phase 2: The Hills。
  This year's submissions reached a staggering 813 from 41 countries, setting a formidable task for our jury of renowned experts. Gathering in March to narrow down the hundreds of submissions to a shortlist of 70 finalists were: planner and landscape ecologist Nina-Marie Lister, interior designer Alessandro Munge, industrial designer Theo Richardson, architect Nader Tehrani and multidisciplinary designer Michael Vanderbyl. The jurors met at Toronto's Drake Hotel – itself a historic landmark – where through debate and discussion they made their final selection of the best of the best – the 20 exceptional winners who were honoured tonight, and who are featured below.
  The winner of the Best Landscape Architecture is Quzhou Luming Park in China , which is designed by Kongjian Yu and his team.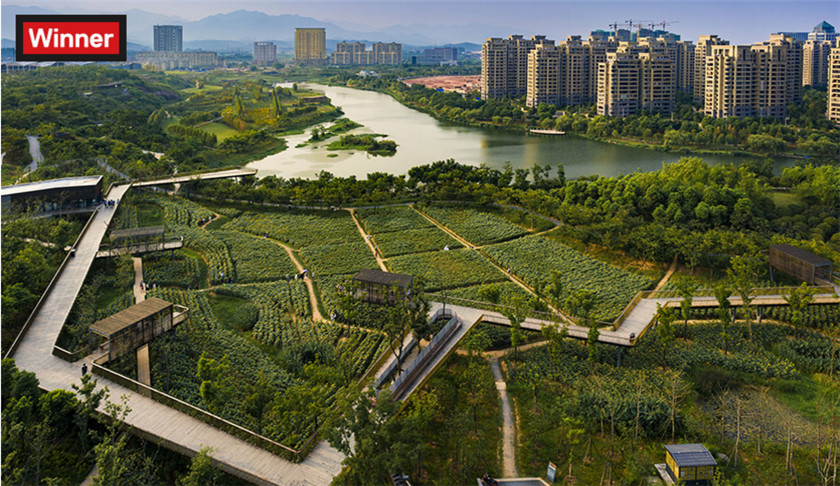 Quzhou Luming Park
衢州鹿鸣公园
在中国衢州,为了保护因城市发展而受到威胁的土地,土人设计公司设计了一个可持续的,极富吸引力的景观方案。
To protect land under threat of development in Quzhou City, China, local firm Turenscape devised a sustainable and captivating solution.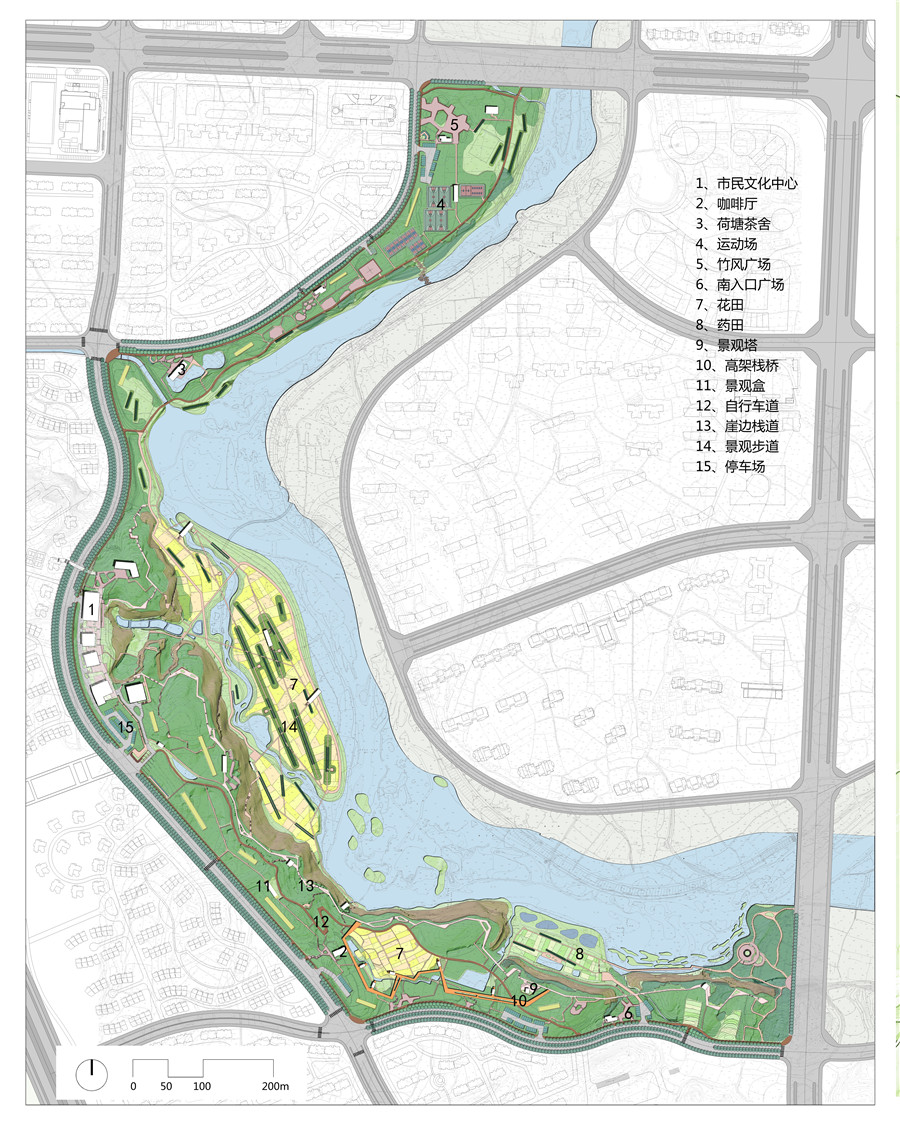 城市的发展从不会因谁而停滞不前,但是在中国衢州,这个250万人口的大都会城市,政府却举手叫停。
  In a country where development waits for no one, the government of Quzhou, a Chinese metropolis of 2.5 million and counting, put up its hand and said, "Stop."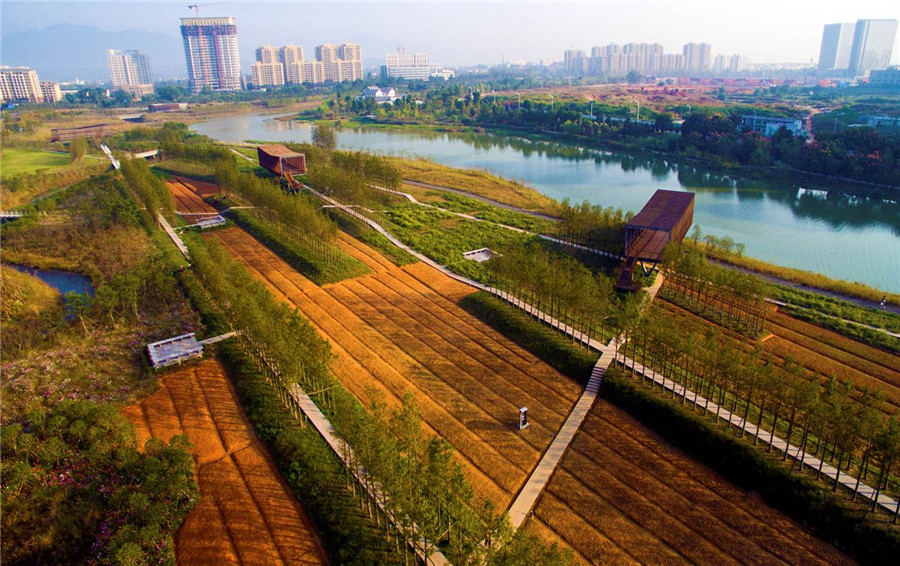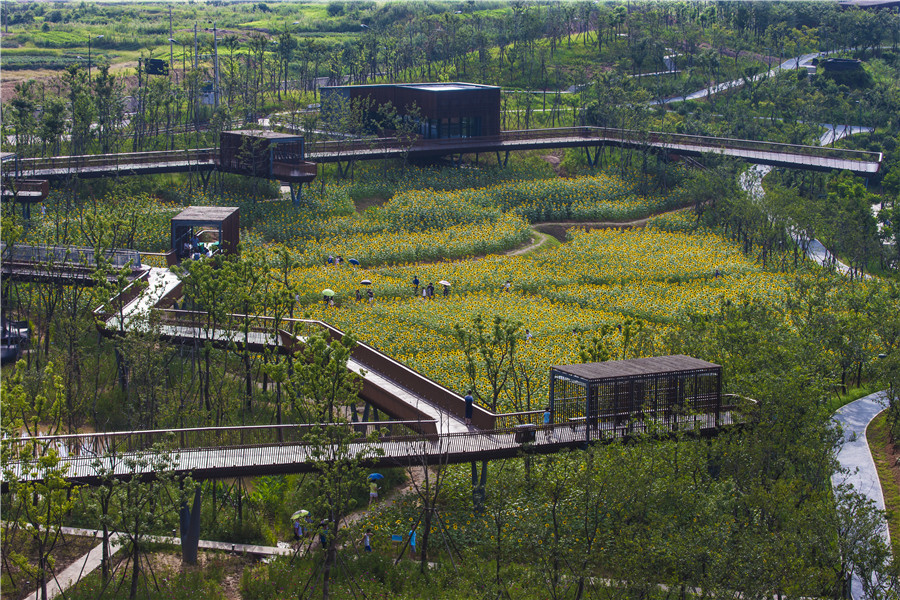 衢州此前曾因控制石梁溪周边城市的扩张,获得国家级生态示范城市的荣誉。但是石梁溪西岸却因工业发展而日益恶化。为此,北京土人设计提出了一个可持续的,非常吸引人的景观方案,确保在未来能够保护这片被忽视的却依然宝贵的31.3公顷土地。
  Quzhou had already earned the status of National Eco-Model City for its efforts to curb rampant growth along Shiliang Creek. But the creek's west bank was at the front lines of industrial creep and increasingly under threat. In response, Beijing landscape architects Turenscape developed a sustainable and seductive solution for some 31.3 hectares of neglected but valuable land, ensuring the land's protection for the foreseeable future.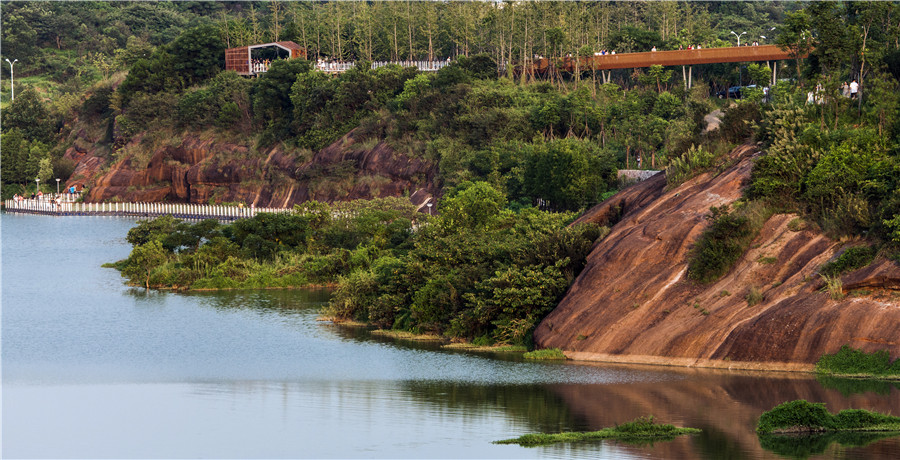 因工业发展和密集的城镇用地,衢州大多地区已被夷为平地,土人设计则保留了石梁溪沿岸原本的红砂岩丘陵地貌,并设计了与之融合的植物景观。多层次的设计语言为这片平原地区创造出丰富的地形空间。
  Whereas much of Quzhou has been levelled for chemical factories and dense housing, Turenscape preserved the natural red sandstone hills of the Shiliang Creek bank and enhanced them with clusters of green. This creates a sense of rich geography in a flat urban context where few peaks rise from the distant horizon.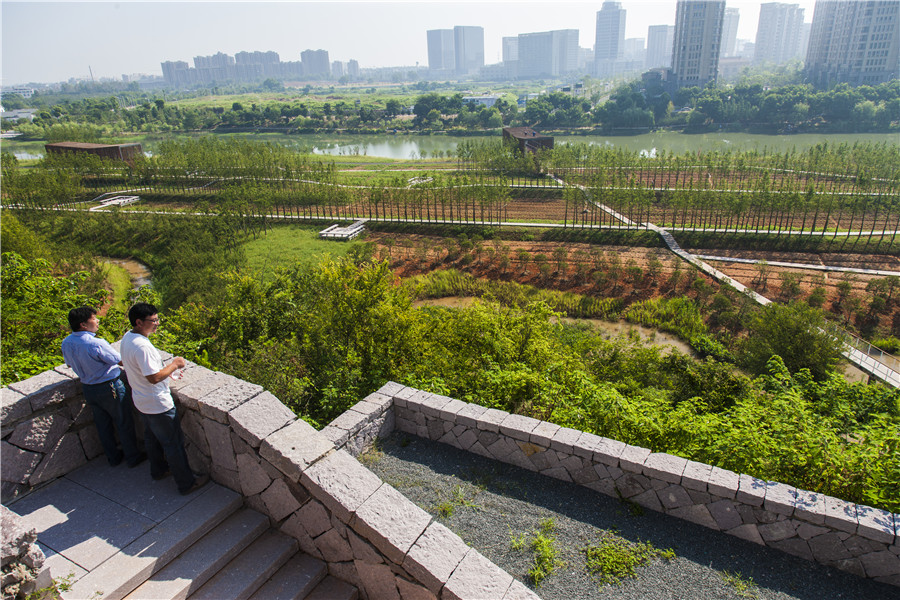 在大片河漫滩区域,土人设计通过"覆被"(Quiting),将低维护的乡土植物融于景观设计之中,种植芦苇,草地和耐寒开花作物,并进行自然灌溉。春天,有灿烂金黄的油菜花;夏天,向日葵,千屈菜和野菊花竞相盛开;秋天,枫香树,朴树和银杏热烈似火。
  From here, the land dips south toward the river in swaths of floodplain. Turenscape's response was to "quilt" it with low-maintenance, naturally irrigated meadows of reeds, grasses and hardy flowering crops that come alive at different times of the year. Brilliant yellow canola blossoms emerge in spring; sunflowers, purple loosestrife and wild chrysanthemums bloom in summer; and liquidambar, hackberry and ginkgo trees are aflame in autumn.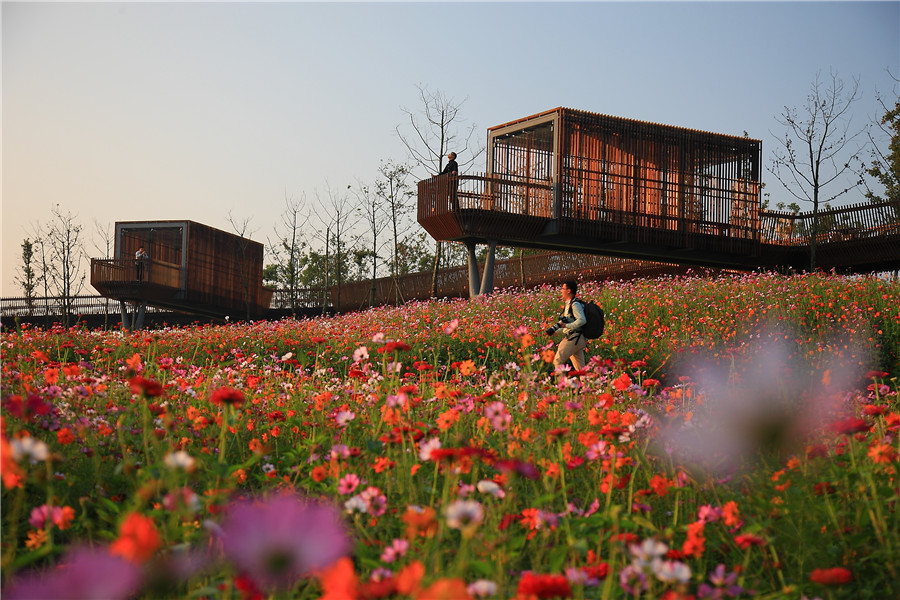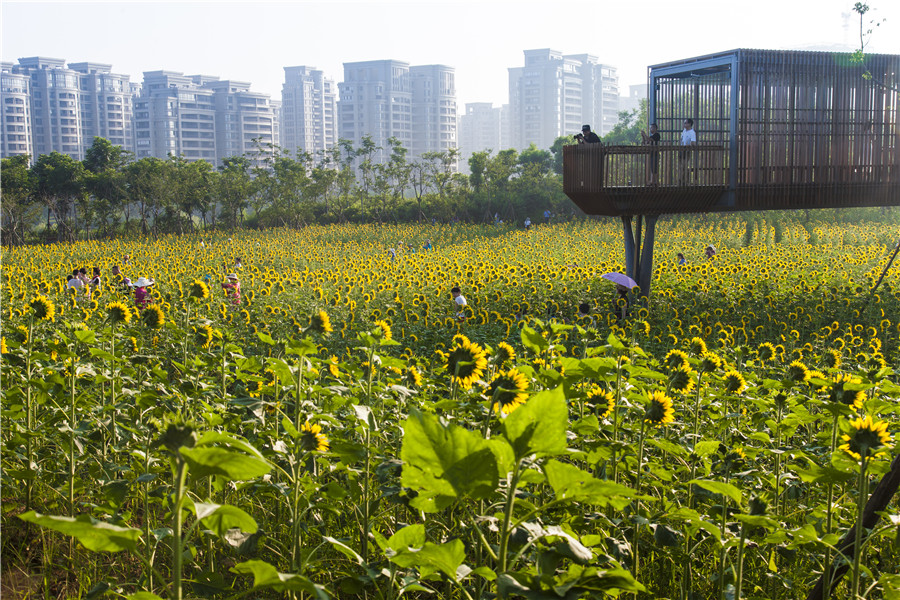 "我们可以借鉴这种生物过滤系统,植物修复了这里的同时还美化了景色。
  This is the kind of bio-filtering we can all learn from, where plants are remediating the area while also looking beautiful.
——Nina Marie Lister"
  在这片脆弱的湿地中,建造任何重大建筑都会与该项目的初衷背道而驰——吸引越来越多的人来到这里,才是真正保护这片土地的唯一途径。土人设计用最小化干预,精心设计了栈桥、步道系统,漂浮于水面之上,游客穿过层层树木,将绚丽绽放的向日葵尽收眼底。庇荫的景观亭伸出植物群落之外,巧妙地坐落于河漫滩之上,临近溪岸。在土人看来,项目设计的理念就是"与洪水为友"。
  To build anything significant amid this fragile wetland would defeat the project's purpose – and yet luring people here is the only way to truly safeguard the future of the land. With minimal intervention, Turenscape threaded raised boardwalks – which appear to skim the water – through the park, skirting the forest's edge so that visitors can peer down into the faces of basking sunflowers. Shady wood-slat pavilions have balconies that jut out over fields of wildflowers and dangle over the river. The goal, says Turenscape, was to "make friends" with the water.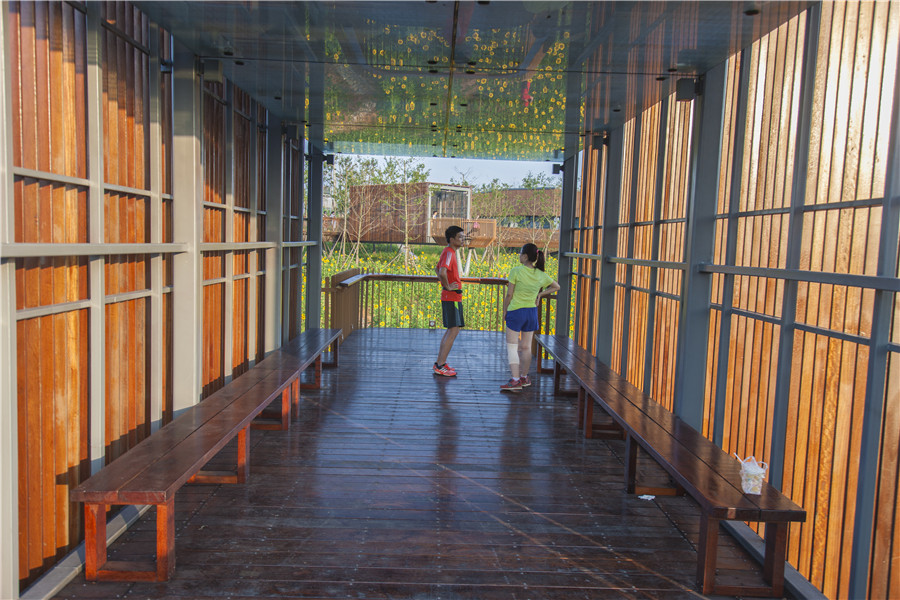 为这片城市遗弃地精心谋划一个丰产的、弹性的未来,才是生存的长久之计。
  Orchestrating a productive, resilient future for this imperilled environment was an auspicious start to a lasting relationship.
From:AZURE
More about it :http://www.azuremagazine.com/article/announcing-the-winners-of-the-2017-az-awards/