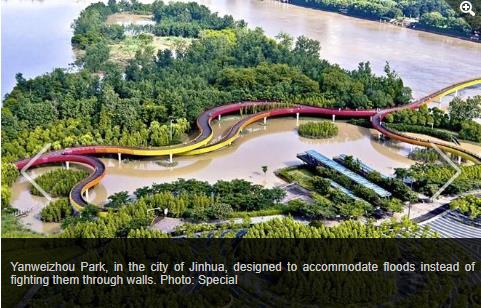 Mexico City (December 9, 2019) . The urban collapse, caused by real estate overexploitation and exacerbated by the climate crisis, does not have to be imminent.
This has been demonstrated by the Chinese landscape architect Kongjian Yu, whose theory and practice on infiltrating cities, or "sponge cities", guides the efforts of the Government of his Country in the field of ecological urbanism.
A revolutionary hydrological model focused on the transformation and optimization of cities and neighborhoods through systems to capture rainwater, store, purify and infiltrate aquifers. The synthesis between modern water management and ancient Chinese irrigation and agriculture techniques.
"Sponge cities are a solution based on nature. Use nature to capture water - retain water from storms - clean it and recharge the aquifer by filtering it," reiterates in an interview the architect born in 1963 in a small town on the coast Southeast China, recently visiting the country.
The idea that underlies the proposal of the dean and founder of the College of Architecture and Urban Design at the University of Beijing, his alma mater, is to become friends with water. Reassess the relationship with flooding, usually channeled quickly outside the city, although it may suffer from a constant shortage.
Kongjian knows this situation well, coming from the most populous nation on the planet, but who only has access to 8 percent of the fresh water. So every drop that falls from the sky, in a place where heavy rainfall has been fatal, must be taken advantage of.
"Waterlogging is not an enemy or something to fear. You have to adapt, make use of it. Living with nature, depending on it," says the director of the firm Turenscape - a name that in Chinese suggests the irrevocable interrelation between man and the earth-, responsible for more than a thousand ecohydraulic works around the world.
Only this adaptation is very difficult to achieve through the infrastructure that prevails in the main metropolises of the world.
"In the city, the infrastructure we have, and what we call gray infrastructure - made of concrete, steel and all these mechanical systems - is not resilient and cannot be adapted to climate change, monsoon rains or drought seasons; extreme weather. And this is so because all this was invented in Europe, where they have a fairly mild climate.
"(We must) create small containers that allow water to be regulated throughout the seasons: during the drought, use the water; in the wet season, catch the water, "he remarks.
Ponds, wetlands, terraces and embankments are some of the ways in which these sponge cities achieve such a process of water collection, containment and filtration. An example is Yanweizhou Park, in the city of Jinhua, designed to accommodate floods - which enrich the native vegetation - instead of fighting them through walls.
"If you turn a park into a wetland, you will create a sponge, because the water will stay in the park," says the architect. "So, according to the idea of sponge city, all green areas must be at lower levels for water to go to them. That is a green infrastructure, and a pond or dike system."
Despite the innovation that this model can represent, Kongjian, who grew up on a farm, emphasizes the ancient wisdom from which it comes.
"The ancestors farmers of my country knew how to build a pond system 2,000 years ago," he says. "You yourselves had this before!" He adds in relation to the floating gardens, or chinampas.
"We have buried a whole wisdom accumulated for thousands of years by the natives: embankments, ponds, floating gardens. We have totally ignored all that, when they are (models) much more adaptive to the landscape. They have a much longer history and today they are a solution sustainable".
And they represent a solution because, he details, they allow a more efficient purification than that achieved in a wastewater treatment plant, improve air quality, reinforce biodiversity, dispense with the use of energy for water transfer and provide new opportunities for local food production.
All this at a much lower cost than the large infrastructure, but also increases the real estate value of the cities, without neglecting the pursued aesthetic sense of beauty.
Benefits that Kongjian and Turenscape have been able to quantify in the nearly 500 infiltrating cities implemented in China, whose pilot program started with 30 in 2015. It was a government mandate, he warns, that each Chinese city is a sponge city, which has given way that, eventually, this may be the first "sponge country".
But, above all, that the nation that a few years ago nurtured international news with alarming pollution patterns, can become an important stronghold against the climate crisis.
"If we continue to do it for another 20 years (like those invested so far in the formulation and materialization of this theory), we will basically have solved the problem forever, I would say," emphasizes the designer.
A solution for Mexico?
Turenscape has taken its green architecture beyond China: the United States, Russia, Korea, Australia, Indonesia, Singapore, Spain, France and Brazil. Is Mexico capable of implementing these models?
"We know that Mexico City is sinking, that the water is contaminated, and we know that we are still under the threat of flooding because the drainage system does not have the capacity to deal with the water from storms," says Kongjian Yu.
What does Mexico need to have sponge cities?
First of all, governors must convert to the sponge city movement, agree to allocate money here, not to pave, for example. The first thing is to convince the decision makers.
Second, we have to create new values about what is good and bad, make everyone, that every citizen understands that the ecological movement is important to provide everyone with benefits and well-being; that people's well-being is based on security, a good home and freedom. And all that nature offers, in fact.
Would this pay to reinforce the city against seismicity, for example?
Certainly, there would be more resilience. If you have a sponge city, with a stabilized aquifer, your city is safer. I am not an earthquake expert or a geologist, but seeing it from the lake (where the CDMX was erected), I would say that if the subsoil is not stable, it will be easily shaken by the earthquakes.
Making the capital a sponge city, Kongjian says, would also help reduce polluting emissions, as less energy would be used to pump water and in the processes to purify it. Taking into account the number of days with poor air quality suffered only this year, the proposal becomes more relevant.
And the infiltrating cities would also offer a solution for the floods, such as those suffered by Beijing in 2012, and which claimed the lives of 79 people - and motivated the Government's interest in this proposal.
"Sponge cities, in many ways, make spaces safer for people, more homely and more beautiful," says the designer.
Convinced that a change of mentality is needed to implement this ecological urban planning around the world, he has taken the baton as an international speaker, and so far he sees a good reception.
As part of his visit to the Country, after appearing in San Diego at a congress of the American Society of Landscape Architects, the designer gave a couple of lectures to students of the UNAM and the UAM.
The itinerary also provided for the possibility of meeting with President Andrés Manuel López Obrador, who drives the megaproject of the Mayan Train, whose route - from the Cancun resort to the Mayan ruins of Palenque, through the Yucatan Peninsula - would cross wetlands. and underwater rivers.
What do you recommend to the President regarding the Mayan Train?
I would say that a train could be made with a very minor impact if done wisely, compared to other large infrastructures.
You have to do it intelligently, have a master plan, particularly; A pattern of ecological safety. We are sure that nothing should be done without it. Before making any decision, you must do an ecological study.
But I've been in that area, it's beautiful. You don't have to develop anything; You must leave some sacred places for nature.
From: Reforma
Links:https://www.reforma.com/contra-el-colapso-ciudades-esponja/gr/ar1830932?