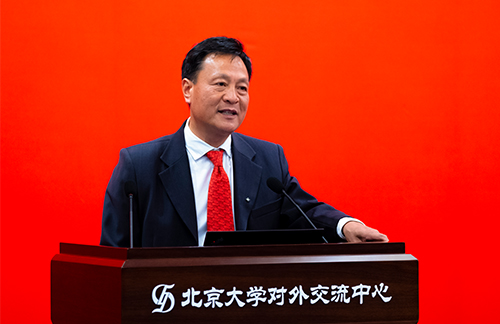 At a virtual award's ceremony on 8th October 2020, IFLA President James Hayter announced Chinese landscape architect Kongjian Yu as the winner of the 2020 Sir Geoffrey Jellicoe Award.
Inaugurated by IFLA in 2005, the Sir Geoffrey Jellicoe Award celebrates a living landscape architect whose "achievements and contributions have had a unique and lasting impact on the welfare of society and the environment and on the promotion of the profession of landscape architecture." It is the highest honour IFLA can bestow on a landscape architect. The award is named after notable British landscape architect Sir Geoffrey Jellicoe, a founding president of IFLA, whose most well-known works included Cheddar Gorge and the Kennedy Memorial at Runnymede in the UK.
Kongjian Yu received his Bachelor of Agronomy in Landscape Architecture and Master in Landscape Architecture (Beijing Forestry University), and Doctor of Design at Harvard University's Graduate School of Design in 1995 with a dissertation titled 'Security Patterns in Landscape Planning.' Yu is the founder of Turenscape, one of the first and largest private architecture, landscape architecture and urbanism practices in China.
For over 20 years Yu has spent his academic career fighting against deteriorating urban ecologies and the environment. His pioneering research on Ecological Security Pattern (1995) and Ecological Infrastructure, Negative Planning and Sponge Cities (2003) has been adopted by the Chinese government as a framework for nationwide ecological protection and restoration campaigns.
Yu defines landscape architecture as the art of survival. A native of China's Zhejiang Province, he drew on inspiration from his childhood farming experience and the ancient wisdom of water and waste management to design and test a series of nature-based solutions.
Among his most recognized projects are the Shanghai Houtan Park, Harbin Qunli Stormwater Park, the Qinhuangdao Red Ribbon Park, Zhongshan Shipyard Park, the Rice Campus for Shenyang Jianzhu University, Tianjin Quaoyuan Park, Qian'an Sanlihe Greenway, Jinhua Yanweizhou Park and Quzhou Luming Park.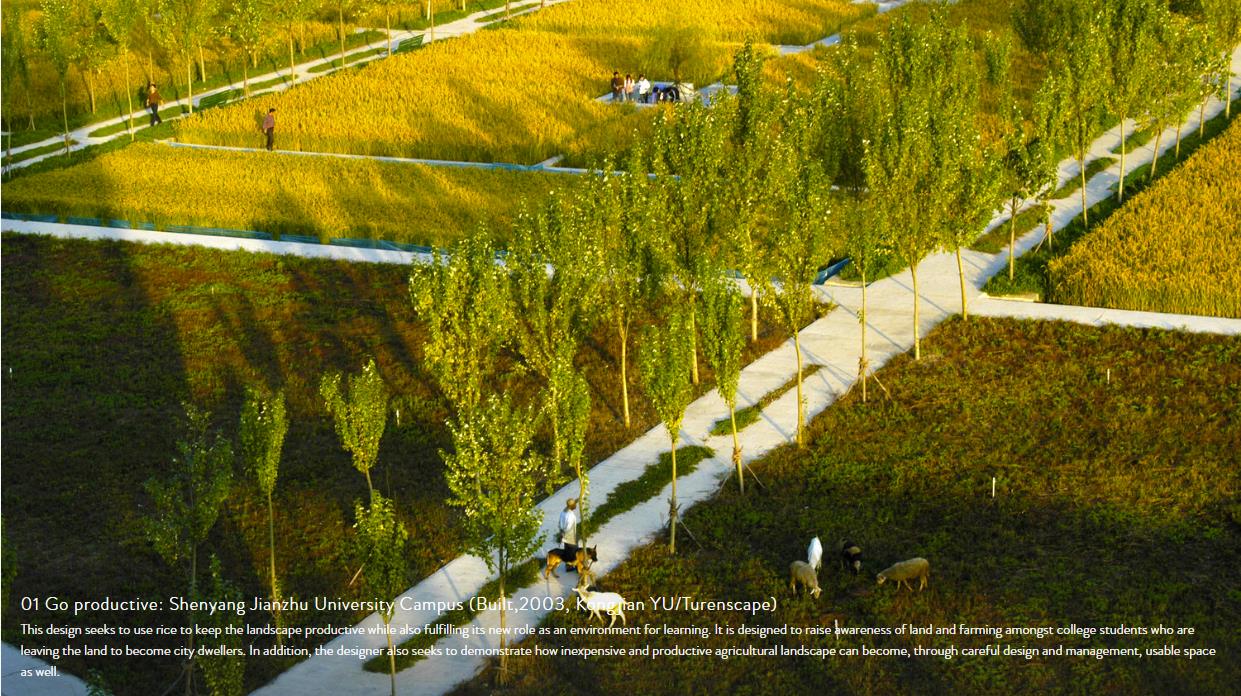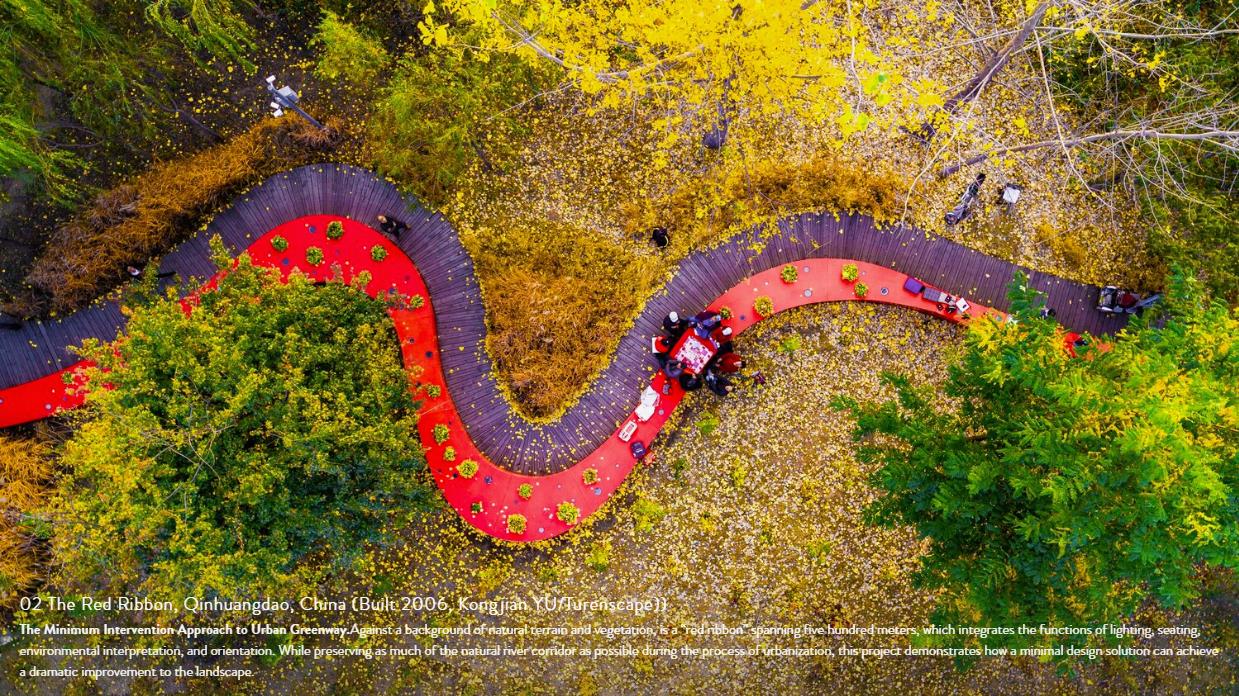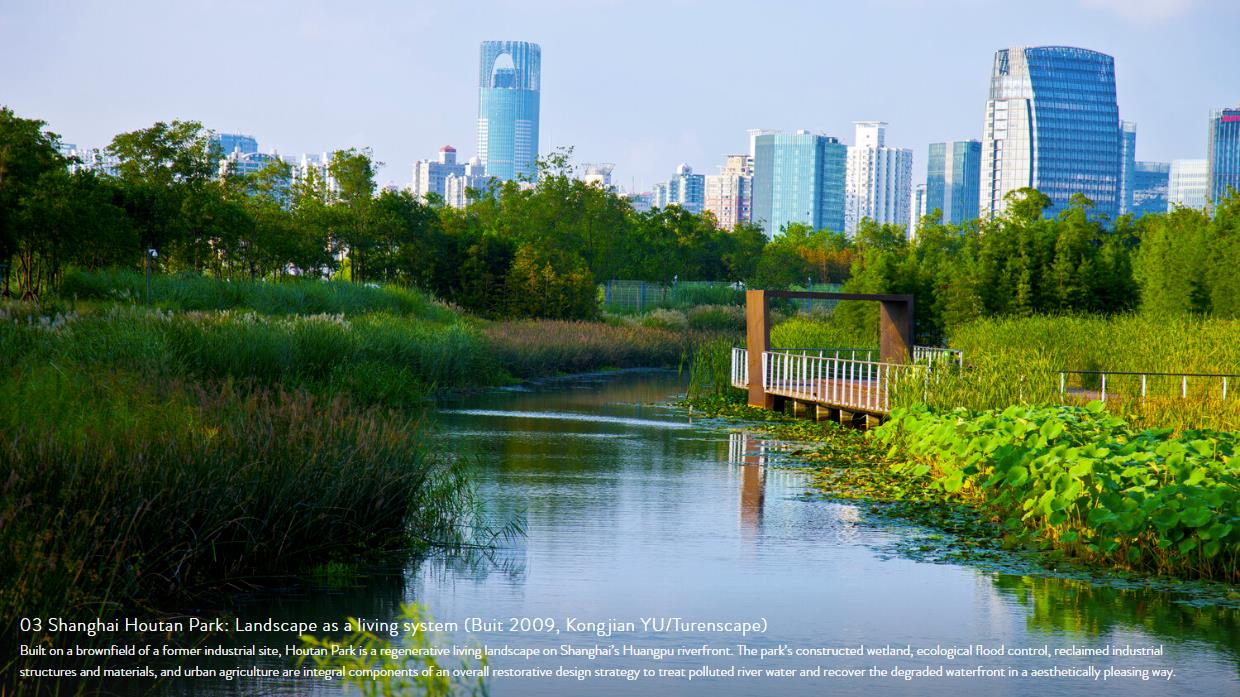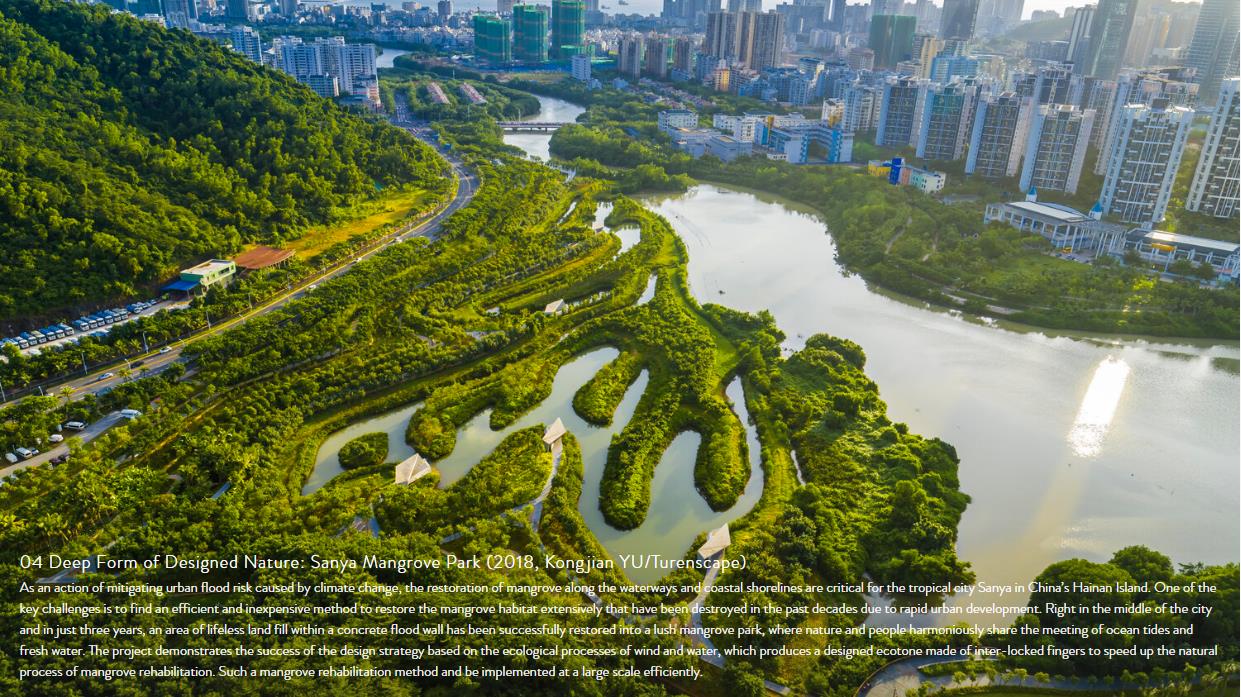 His work has been featured in such publications as Landscape Architecture Magazine, Topos, Domus, Architecture Review, Architectural Record and Architecture Design. The recent book, Designed Ecologies: The Landscape Architecture of Kongjian Yu (William Saunders ed., Birkhauser, 2012) explores Yu's work with extensive documentation of selected projects and essays.
Yu has published 25 books and over 300 papers, and is founder and chief editor of the magazine Landscape Architecture Frontiers. He was instrumental in the founding of the Graduate School of Landscape Architecture at Peking University, and is Founder and Principal designer in the College of Architecture and Landscape Architecture.
He was elected fellow of the American Society of Landscape Architects in 2012 and International Honorary Member of the American Academy of Arts and Sciences in 2016. He received the Doctor Honoris Causa in Landscape and Environment from the Sapienza University of Rome in 2017, and received an Honorary Doctorate from the Norwegian University of Life Sciences in 2019.
The Jury noted "Yu is undoubtedly one of the most influential landscape architects in the world. The visibility of his high-profile design work and his lecturing and educational activities have a great impact on professionals and students as well as on a broader public – with the chance to change the perception of the profession".
With the announcement of the 2020 award, Kongjian Yu joins American landscape architects Kathryn Gustafson and Anne Whiston Spirn, and Dutch landscape architect and planner Dirk Sijmons who were the most recent recipients of the award in 2019, 2018 and 2017 respectively.
From: IFLA
Links: https://www.iflaworld.com/newsblog/kongjian-yu-announces-as-winner-of-the-2020-sir-geoffrey-jellicoe-award