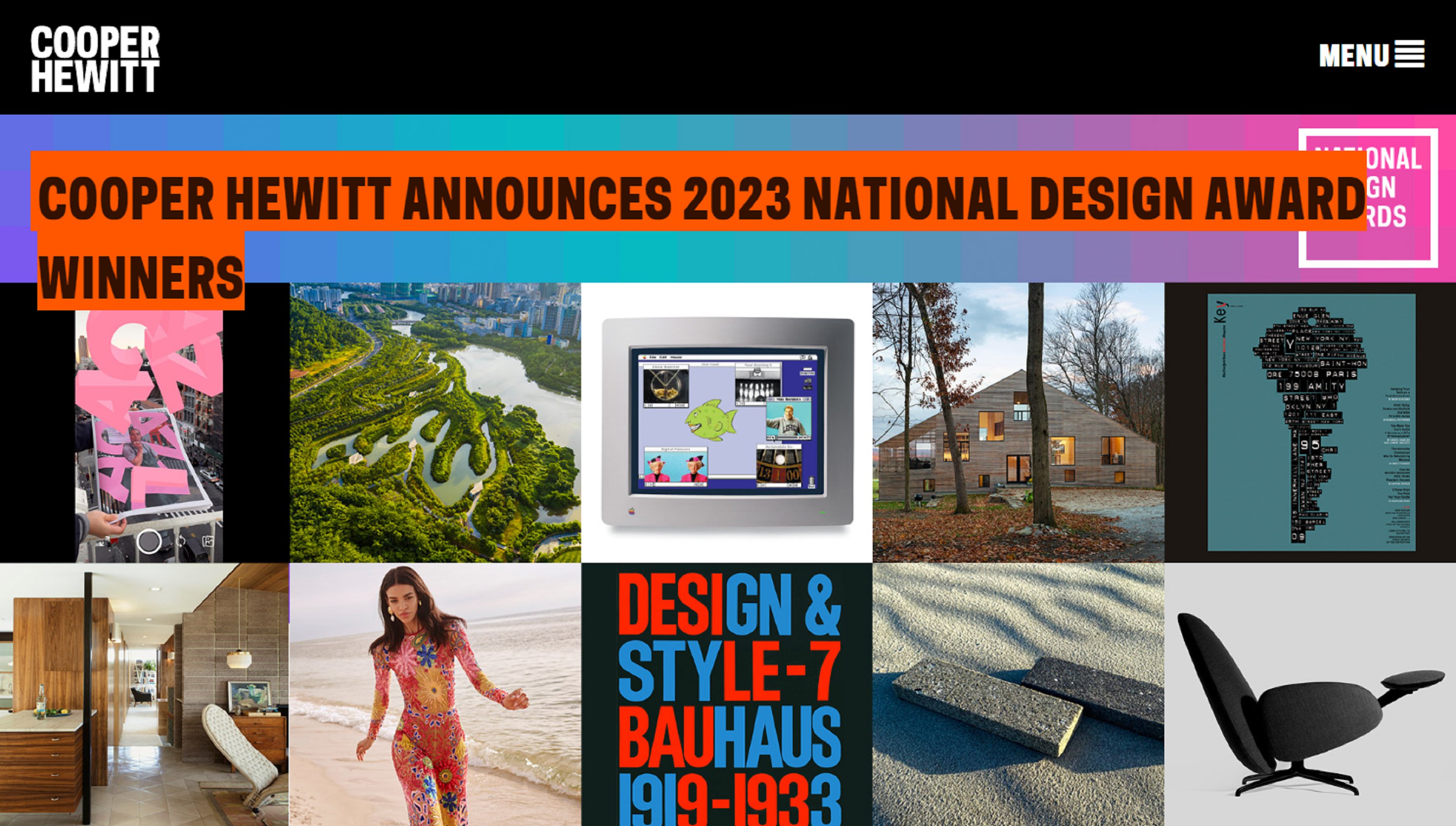 Cooper Hewitt, Smithsonian Design Museum today announced the winners of the 2023 National Design Awards, recognizing design innovation and impact in 10 categories. Now in their 24th year, the National Design Awards bring national recognition to the ways in which design enriches everyday life. Award recipients are selected by a multidisciplinary jury of practitioners, educators and leaders from a wide range of design fields. The winners will be honored at an Awards celebration Thursday, Oct. 5 at Cooper Hewitt.
This year's National Design Award recipients are:
Seymour Chwast, Design Visionary
Biocement Tiles by Biomason, Climate Action
Beatriz Lozano, Emerging Designer
nARCHITECTS, Architecture
Arem Duplessis, Communication Design
Clement Mok, Digital Design
Naeem Khan, Fashion Design
The Archers, Interior Design
Kongjian Yu, Landscape Architecture
Atlason, Product Design
"This year's National Design Award winners are a highly diverse group—from a handcraft-focused fashion designer to one of the early pioneers of digital design—but they share many common traits: a highly rigorous process to their discipline, a truly collaborative approach and putting people front and center in their practice," said Dung Ngo, chair of the National Design Awards jury. "These are design core values worth celebrating."
"My gratitude goes to this year's stellar jury for their thoughtful selection of the 2023 National Design Award winners," said Maria Nicanor, director of the museum. "This year's cohort, a diverse group of designers across disciplines, are not only charting new pathways in their respective fields, but also integrating sustainable, socially responsible and people-centered practices in their work in a moment of profound global complexity."
Established in 2000 as a project of the White House Millennium Council, the National Design Awards are accompanied annually by National Design Week, which takes place this year Oct. 2–8. Cooper Hewitt will offer free admission to museum visitors during National Design Week to make design accessible to all. A variety of public education programs will also be offered at the museum to celebrate the important role design plays in all aspects of daily life, including tours, panel discussions, Cooper Hewitt's design career fair for high school students and more. Programs will be posted on the museum's website.
THE 2023 NATIONAL DESIGN AWARD RECIPIENTS
Design Visionary: Seymour Chwast
The Design Visionary award, recognizing an individual, company or organization who has made a profound contribution to advancing the field, is given to Seymour Chwast.
Chwast has been at the forefront of graphic design since the 1950s and continues to explore new frontiers in design and typography. He is a founding partner of the celebrated Push Pin Studios, whose distinct style has had a worldwide influence on contemporary visual communications. His designs and illustrations have been exhibited in major galleries and museums in the United States, Europe, Japan, Brazil and Russia. Chwast and Push Pin were honored at the Louvre in Paris in the two-month retrospective exhibition "The Push Pin Style" in 1970. His posters are in the permanent collection of the Museum of Modern Art, Cooper Hewitt, The Library of Congress, The Gutenberg Museum and The Israel Museum, among others. A graduate of The Cooper Union, Chwast holds an honorary doctorate in Fine Arts from the Parsons School of Design and The Rhode Island School of Design. He has received numerous awards including the 1985 AIGA Medal and is in the Art Directors Hall of Fame.
Climate Action: Biocement Tiles by Biomason
The Climate Action award recognizes a design project for its significant contributions to addressing the urgency of the global climate crisis. The winner of this year's award is Biocement Tiles by Biomason.
Founded in 2012, Biomason's mission is to reduce CO2 emissions generated by global cement manufacturing, which accounts for approximately 8% of global CO2 emissions. Inspired by a study of coral structure, a very hard cementitious material created by nature in ambient sea temperatures with low energy and material inputs, Biomason has developed a scalable and sustainable biological approach to the production of cement and concrete materials. Over the past decade, Biomason has harnessed biology to develop technology using microorganisms to grow strong, durable Biocement-based construction materials to lead the global transition to planet-friendly construction. Biomason's current product, the Biolith tile consists of 85% natural locally sourced aggregates and 15% Biocement and can be used in various construction applications, including walls, floors and facades. Biomason has partnered with Danish concrete manufacturer IBF to open the world's first Biocement manufacturing facility to commercially produce Biolith tile in 2023. This is the first step toward Biomason's revolutionary path to minimize carbon emissions.
Emerging Designer: Beatriz Lozano
The Emerging Designer award is given in recognition of a designer or practice who has demonstrated profound talent in the early stages of their career. The 2023 Emerging Designer award is presented to Beatriz Lozano.
Lozano is a designer, typographer and educator exploring how technology can push typography to exist at the intersection of the physical and digital world. Originally on the path to becoming a mechanical engineer, Lozano shifted to graphic design as her involvement in immigrant rights activism exposed her to the power of visual communication. She is dedicated to using design to create social change and bridge the gap in access to resources and knowledge. Lozano's work has been recognized by the Art Directors Club, Type Directors Club, Communication Arts and PRINT. In 2023, she was awarded the Art Directors Club Young Gun Award, which recognizes the world's best creatives under the age of 30. She teaches interaction design at Parsons and was formerly a design director at Sunday Afternoon.
Architecture: nARCHITECTS
Given to an individual or firm for their contributions to the built environment that advance the understanding of spatial experiences, this year's National Design Award for Architecture goes to nARCHITECTS.
nARCHITECTS was founded by Eric Bunge and Mimi Hoang in 1999, with the goal of addressing urgent issues through socially engaging architecture. The firm works for the public good, maximizing the mutual positive impact between communities, buildings, public spaces and their environment. In 2016, nARCHITECTS completed Carmel Place, New York City's first micro-unit apartment building, and A/D/O, a design center dedicated to improving urban life. In 2018, the NYS Equal Rights Heritage Center provided a platform for social justice. In 2020, The Jones Beach Energy & Nature Center opened, educating a new generation of environmental stewards. nARCHITECTS' commitment to innovative housing and the integration of architecture into landscape emerged from Bunge and Hoang's early work (Canopy and Switch Building) and graduate design studios taught at Columbia and Yale University.
Communication Design: Arem Duplessis
The Communication Design award recognizes an individual or firm for the impactful use of design at the service of information sharing, messaging and overall communication. The 2023 recipient is Arem Duplessis.
Duplessis is a creative director who has led and designed visual narratives that have positive global impact, currently serving as a group creative director at Apple. Previously, Duplessis was design director of the New York Times Magazine, where his department was named Design Team of the Year for three consecutive years by the Art Directors Club. During his tenure at GQ, he led the development of Gotham, which became one of the most recognizable typefaces of a generation—used in President Barack Obama's campaigns, Coca-Cola advertisements and Saturday Night Live. He has received numerous awards, including an Emmy and AIGA Medal. He lectures around the world and has taught within Pratt Institute's Graduate Design Department, SVA and The Royal Danish Academy of Fine Arts. Duplessis received a Bachelor of Arts from Hampton University and a Master of Science from Pratt Institute where he was recently inducted into the Hall of Fame as a "Pratt Legend."
Digital Design: Clement Mok
The Digital Design award, given to an individual or firm for the innovative design of digital products, environments, systems, experiences and services, honors Clement Mok.
Mok is a designer, digital pioneer, software publisher and developer, author and design patent holder. He began his career in the 1980s at the design department at CBS, then moved to Apple, where he joined the Macintosh design team working with Steve Jobs. During his five years as a creative director at Apple, he made computers friendlier and more accessible. Since then, he founded multiple successful design-related businesses, including Studio Archetype, CMCD and NetObjects. A pioneer in designing in digital media, Mok helped shape what people know of today as experience design, information design, interaction design, interface design and more. His contributions have been recognized by publications and many awards, including the 2008 AIGA Medal. Mok is also an advocate for design and technology practices. He mentors startups and serves on the advisory boards of technology companies, colleges and nonprofit organizations.
Fashion Design: Naeem Khan
The Fashion Design award is given to an individual or firm for the forward-thinking design of apparel, accessory, jewelry, footwear and textiles. The recipient of the 2023 National Design Award for Fashion Design is Naeem Khan.
Khan is a fashion designer who launched his eponymous collection in 2003. He was born and raised in India surrounded by the beauty of its culture, architecture, history and design. These influences helped cultivate his vast knowledge of textiles. Khan is known for the exquisite hand-embroidery in his work, crafted by artisans in his family-owned factory founded by his grandfather decades ago. As a teenager, Khan moved to the United States and apprenticed for Halston, where he absorbed the ethos of modernism and the secrets of draping and cutting fabric to create clean, elegant and timeless silhouettes. Today, his focus is to create clothing that embodies beauty, glamour and femininity while purposefully evolving his vision in the world of fashion. A key element to Khan's work is keeping the tradition and craft of making clothes by hand.
Interior Design: The Archers
The Interior Design award honors an individual or firm for their contributions to interior environments that advance the understanding of our spatial experiences. This year's winner is The Archers.
Founded by Richard Petit and Stephen Hunt, The Archers is a Los Angeles-based interior design studio with projects in New York and California. The studio is driven by the simple belief that every space deserves to be the only one of its kind. With designers' backgrounds spanning architecture, art history, set design, fashion and the fine arts, they apply their varied skill sets on each project from idea to completion. Named after the British filmmakers Powell and Pressburger's production company, the studio has built a reputation for impeccable design work rooted in their collective knowledge of design history, detailing and craftsmanship. Working with creative director Richard Petit, the team's combined knowledge and varied areas of interest result in a very collaborative approach to design. The studio's work comprises buildings, interiors and furnishings for private homes and public spaces.
Landscape Architecture: Kongjian Yu
The Landscape Architecture award recognizes an individual or firm for their contributions to the integration between the built, urban and natural environments and for advancing the understanding of spatial experiences. This year's award is presented to Kongjian Yu.
Yu is a globally recognized leader in ecological landscape planning and design. A farmer's son, he was trained at the Harvard Graduate School of Design. He is the founder of the Peking University College of Architecture and Landscape Architecture. Yu is also founder and principal designer of Turenscape. His multi-disciplinary firm specializes in the development of landscapes that combat flooding while repairing ecological damage. Several of Yu's core ideas for nature-based climate adaptations, including the sponge city concept, have been implemented nationwide in China. Yu is a fellow of the American Society of Landscape Architects and member of the American Academy of Arts and Sciences. He lectures widely and has received numerous awards, including the Sir Geoffrey Jellicoe Award in 2020 from the International Federation of Landscape Architects.
Product Design: Atlason
The National Design Award for Product Design, given to an individual or firm for the design of goods, furniture, lighting and materials, is awarded to Atlason.
Atlason is a New York-based strategic innovation and industrial design studio founded by Hlynur Vagn Atlason in 2004. The foundational idea behind the studio was a lofty goal—to create design icons of the future. At the center of Atlason's approach is curiosity, a deep love for well-designed objects and the desire to keep improving the constructed world. The studio designs consumer products, furniture and packaging for companies that range from startups to large multinationals. Clients include the Museum of Modern Art, IKEA, DWR, Heller, Our Place, Microsoft, Stella Artois, Johnson & Johnson and L'Oreal. Atlason left his native Iceland for France to study at the Sorbonne in Paris before moving to New York to attend The New School, Parsons School of Design, before starting his eponymous studio.
NATIONAL DESIGN AWARDS JURY
National Design Award winners are selected by a multidisciplinary jury of design practitioners, educators and leaders. Nominations are open to all and are also solicited from experts from a wide range of design and related fields. Jurors join from diverse locations to review submissions, resulting in a final selection of 10 category awardees.
The 2023 National Design Awards jury was chaired by Dung Ngo, editor in chief, August Journal. The jury included Tiffany Chu, chief of staff to the mayor, City of Boston; Carla Fernández Tena, creative director, Carla Fernández; Noah Schwarz, director of product design, Herman Miller; and Sara Zewde, principal and assistant professor of practice, Studio Zewde and Harvard University.
PLANNING NOTE
The National Design Awards were established in 2000 as a project of the White House Millennium Council. On the occasion of the program's 25th anniversary, the next National Design Awards will be celebrated in spring 2025.
SUPPORT
The National Design Awards are made possible with major support from IBM Corporation.
Generous support is provided by Alexandra and Paul Herzan, and Lisa Roberts and David Seltzer. Additional funding is provided by Jon C. Iwata.
Design learning at Cooper Hewitt is made possible by Adobe, eBay Inc., The Hirsch Family Foundation, The Milton and Sally Avery Arts Foundation, The Pinkerton Foundation, PwC Charitable Foundation, and by The Richard and Jean Coyne Family Foundation, with internal Smithsonian Institution funds from the Youth Access Grants for Youth Innovation in Rural America and public funds from the New York City Department of Cultural Affairs in partnership with the City Council.
National Design Award trophies are created by The Corning Museum of Glass.
ABOUT COOPER HEWITT, SMITHSONIAN DESIGN MUSEUM
Cooper Hewitt is America's design museum. Inclusive, innovative and experimental, the museum's dynamic exhibitions, education programs, master's program, publications and online resources inspire, educate and empower people through design. An integral part of the Smithsonian Institution—the world's largest museum, education and research complex—Cooper Hewitt is located on New York City's Museum Mile in the landmarked Carnegie Mansion. Steward of one of the world's most diverse and comprehensive design collections—over 215,000 objects that range from an ancient Egyptian faience cup dating to about 1100 BC to contemporary 3D-printed objects and digital code—Cooper Hewitt welcomes everyone to discover the importance of design and its power to change the world.
Source:https://www.cooperhewitt.org/2023/08/15/cooper-hewitt-announces-2023-national-design-award-winners/