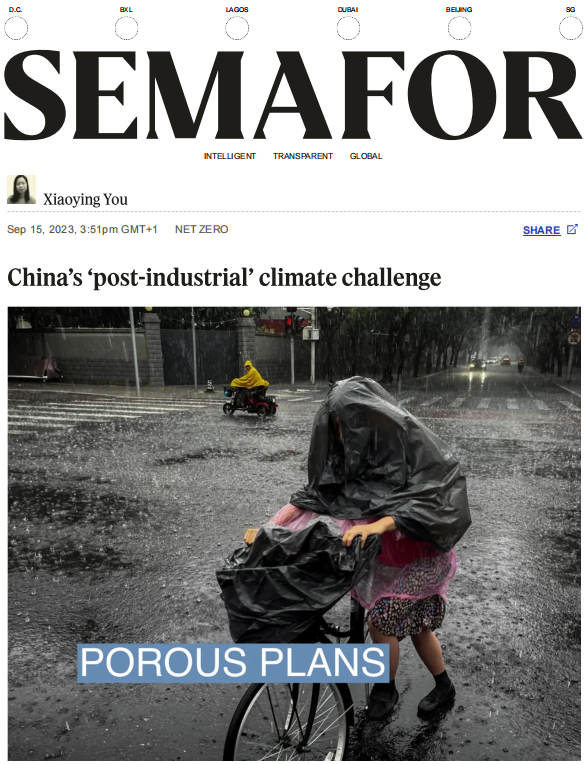 THE NEWS
After a summer of deadly floods in Beijing, oppressive heat waves in Shanghai, and intense rainstorms in Hong Kong and Shenzhen, China's biggest cities are grappling with urban planning in a new climate reality.
To prepare for a more unpredictable future, they must ditch the large-scale industrialized projects that have till now defined Chinese megacities in favour of nature-based solutions, Yu Kongjian, the godfather of Chinese urban planning, told me.
XIAOYING'S VIEW
Although China's central government recognizes that the country is facing rising climate risks, its urban centers have yet to put resilience at the core of their development strategies.
This is partly because even though local officials must now meet environmental targets, they still face pressure to develop cities by upgrading infrastructure and bolstering economic growth. Moreover, China's current planning system, introduced after the country's urbanization boom in the 1990s, is designed to spur, not limit, cities' growth.
"It is hard for [the system] to respond to elements that will restrict a city's growth, such as environmental protection and prevention of floods and droughts," said Cui Guo, an urban planner and editor-in-chief of Urban China.
Yet, according to Yu, that is exactly what must be done. "We need to use a post-industrialized logic to respond to climate change," he told me. Instead of pouring funds into "gray infrastructure," such as concrete dams, Chinese cities must "befriend floodwaters" by harnessing nature, he said. The 60-year-old advocates one solution in particular: the concept of "sponge cities" where urban areas "provide more room" for nature to act as a giant sponge to retain and absorb rain, and slow down floods.
KNOW MORE
In China, Yu is not just any expert: He is a grand master of Chinese urban planning. After studying design at Harvard in the 1990s he returned to China to help establish the College of Architecture and Landscape Architecture at Peking University, where he is still the dean. He is also the founder of Turenscape, a design agency, and is a leading proponent of the "sponge city" idea.
Yu first proposed the concept in 2003, arguing that cities like Beijing, Shanghai, and Guangzhou — prone to extreme downpours as a result of a monsoon climate — should borrow from China's ancient water management wisdom instead of Western industrialized measures when it comes to flooding-control, pointing out that the former showed it worked for thousands of years.
After demonstrating the idea in several projects, he officially proposed the concept to China's Ministry of Housing and Urban-Rural Development in 2011. The following year, heavy rainfall battered Beijing, killing 79 people. And in 2013, Chinese leader Xi Jinping endorsed Yu's idea, instructing the nation to build "sponge cities that can let [rainwater] accumulate, penetrate and purify naturally." The program has since been rolled out in 31 "pilot cities," including Beijing, Shanghai, and Tianjin.
Why, then, did they not hold up in Beijing or Shenzhen this year? Yu argued that it would "take time and effort" for the concept to be fully implemented and that some places have labeled themselves "sponge cities" without putting the theory fully into practice. He added that certain disasters, including the most recent one in Beijing, were caused by flooding in entire river basins, not as a result of urban waterlogging. Therefore, the resilience of the whole basin would need to be enhanced.
ROOM FOR DISAGREEMENT
Several analysts question whether the "sponge city" concept really works. The strategy "was a fairly good plan when it was initiated," but "ignores the extreme events and disasters like the flash flood," Xu Hongzhang, a researcher at the Australian National University, told Bloomberg. Li Zhao, a Beijing-based researcher at Greenpeace, concurred, telling the outlet that water management systems in the "sponge city" concept were not designed to handle the level of extreme weather we see today because they were based on rainfall levels in the 30 years prior to 2014.
THE VIEW FROM THE NETHERLANDS
The Dutch port city of Rotterdam, some 80% of which lies below sea level, presents many good examples of handling flooding. It launched an adaptation program titled "Rotterdam Climate Proof" as early as 2008 to help it achieve full climate resilience by 2025. Different water-borne structures, including floating offices, homes, and farms, have been built in the city. There is also a dedicated "water square." During heavy storms, excessive rainwater is rechanneled to the square, which is designed to hold 1.7 million liters — equivalent to 8,500 bathtubs. On dry days, it serves as a public leisure space.
NOTABLE
Shenzhen, a "pilot sponge city," is bracing itself for climate change by building a "Green Great Wall." Robert C. Thornett explained the city's effort to address its twin water crisis — floods and droughts — with ecological solutions in The Diplomat.
Source: https://www.semafor.com/article/09/15/2023/china-climate-sponge-cities